Ayurveda Treatments
Embrace wellness and live your best life
Massage and therapies inspired by Ayurveda are totally holistic and aim to help to rebalance you and leave you with a sense of relaxation, rejuvenation and well being.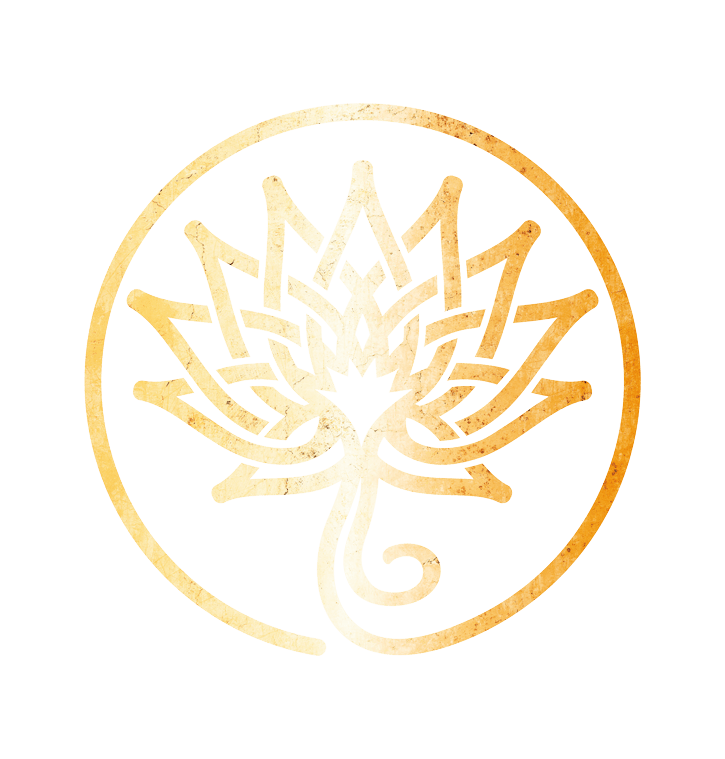 Ayurvedic bodywork
offered in Ashburton and Ideford, Devon.
To book The Haven Health Clinic in Ashburton click below or HERE
To book Namaste Barn, Ideford please contact Virginia directly
Ayurveda treats the whole body, mind & emotions. The rhythmic motion of the massage helps with muscle & joint stiffness and mobility. Blood circulation is increased & the removal of toxins from the body is accelerated. Treatments aim to rebalance, soothe and relax as well as to calm and focus the mind.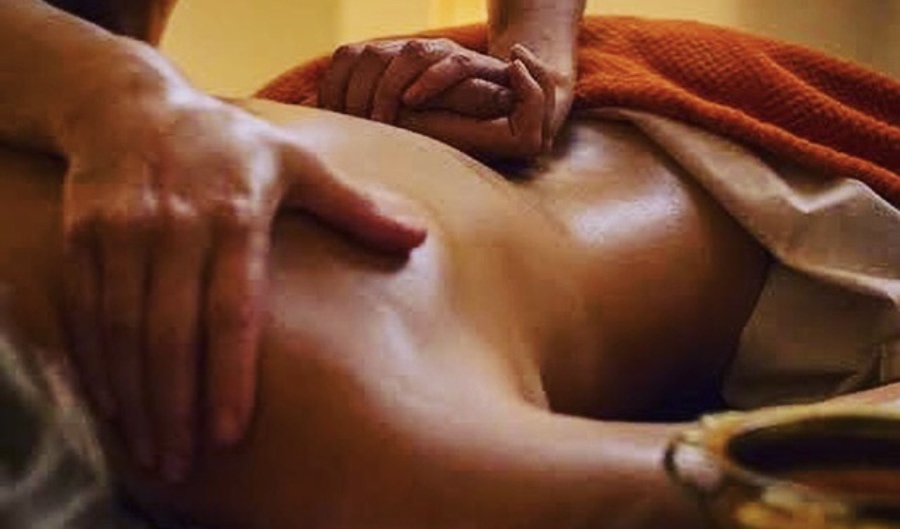 Full body oil massage | Marma Abhyanga
A full body oil massage. This is designed to help you relax and let go of any anxieties. Warm oil is gently but firmly massaged into the body to stimulate the marma (energy) points which releases and rebalances energy to promote wellbeing. This massage helps eliminate excess water, fat deposits and toxins to strengthen and rejuvenate your whole body. Good for deep relaxation, stress relief, pain relief, calming the mind, strengthening and rejuvenating internal organs and improving circulation.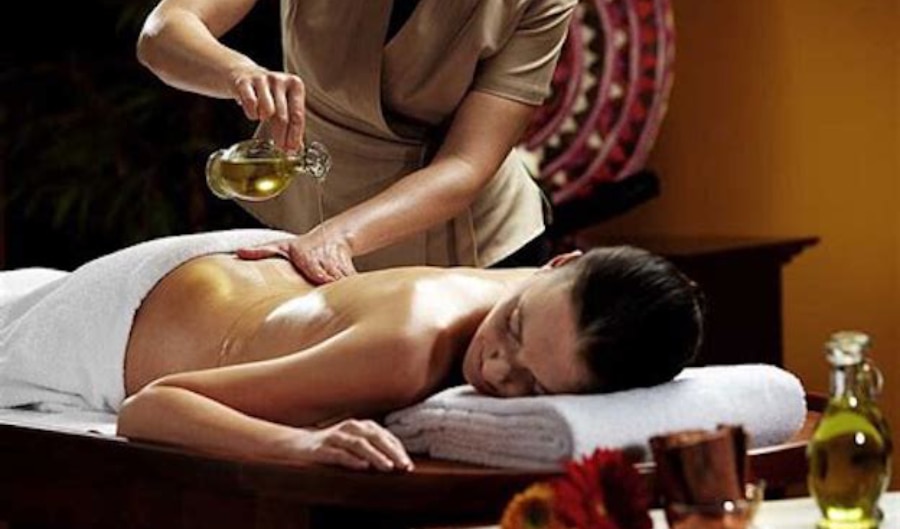 Bespoke Ayurvedic bodywork
A full body massage treatment tailored for your individual needs, using warm oil and together with a head or face massage plus a focus on any specific areas of concern.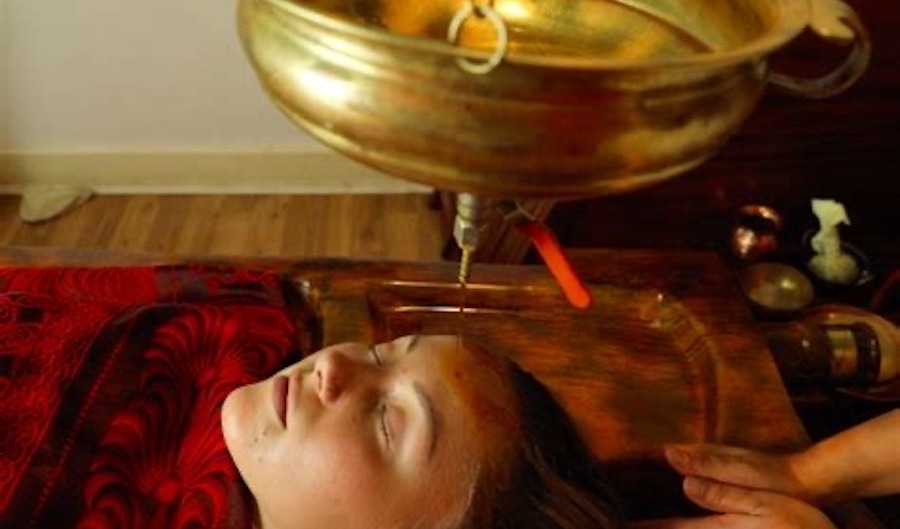 Oil pouring on forehead | Shirodhara
One of the most powerful Ayurvedic treatments where a continual stream of warm oil is poured rhythmically over the forehead to induce a deep feeling of calm. This blissful therapy quietens the mind, alleviates anxiety and heightens awareness and is particularly effective for insomnia, headaches and stress. It also improves hair condition.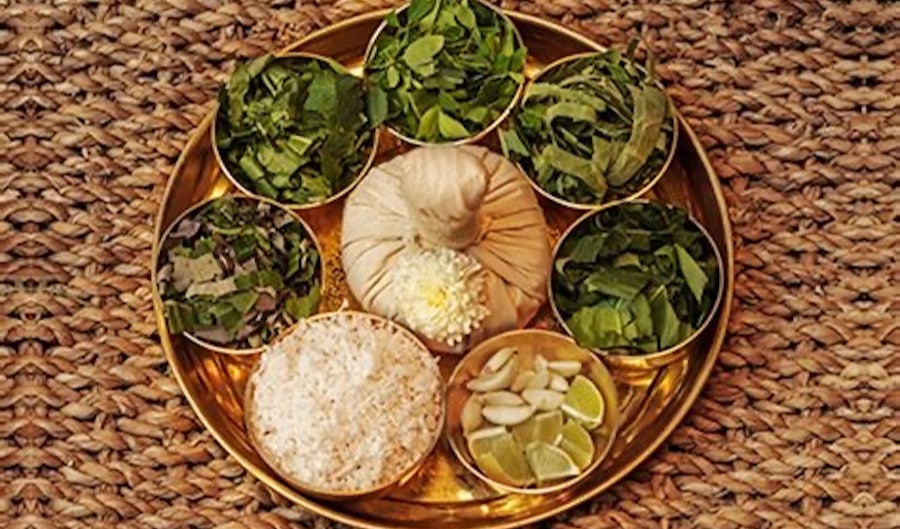 Invigorating oil massage with herb bundles | Pinda Sweda
Warm muslin bundles of therapeutic herbs are used with oil to work into the affected areas of the body. This treatment strengthens and rejuvenates joints, reducing pain, stiffness and inflammation and so is especially good for arthritis, muscular pain, sciatica, and chronic back pain. Good for stiff joints and pains, arthritis, inflamed muscles, certain skin conditions, it is calming and anti-inflammatory.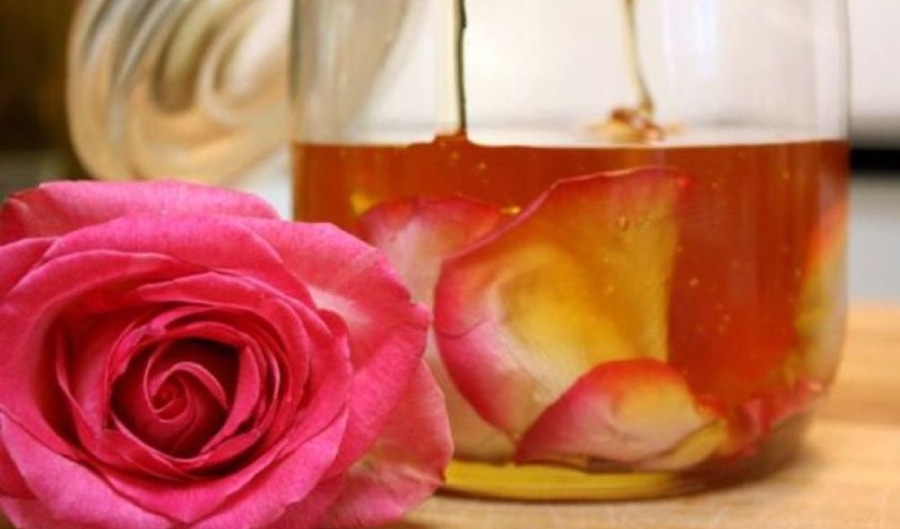 Rose honey massage
Warm honey is mixed with rose water to give an incredibly nourishing and nurturing treatment. Rose is believed to balance the heart and mind, helping with difficult emotions. Honey is incredibly beneficial for agitated and dry skin, being a natural antiseptic and anti inflammatory. This treatment will leave you feeling soothed and nourished like no other. The honey is washed off with warm water to complete the treatment. (A warm bath or shower is advisable when you return home).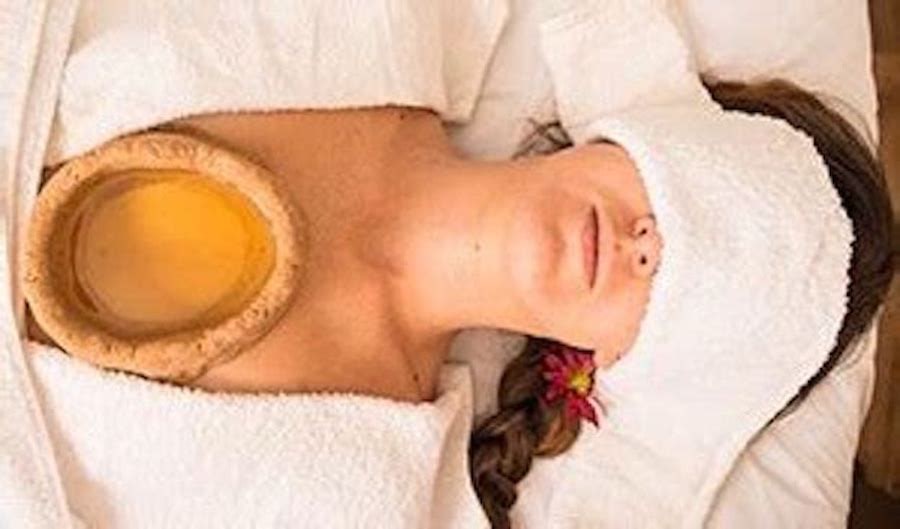 Head and Heart
A soothing treatment for emotional overwhelm and a restless mind.
A circular dough dam is placed on the centre of the chest and filled with warm soothing rose infused almond oil. Amongst other benefits, rose is healing for the heart and almond restores our vital energy or 'Ojas'. This is followed by a shirodhara treatment (warm oil poured over the forehead) to calm the mind.
At the end of this treatment you are gifted rose tea to take way.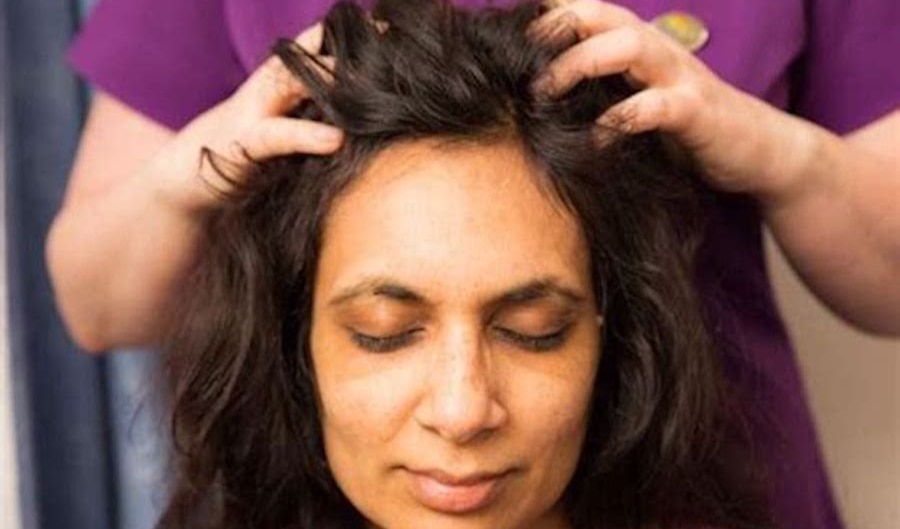 Head neck & shoulder massage | Shirobyangha
A tension relieving seated head, neck and shoulder massage, great for helping with computer strain, migraines and stress. A miraculous cure for stiffness, aches and pains. Sweeping movements across the back are used to promote circulation and restore energy balance throughout the body.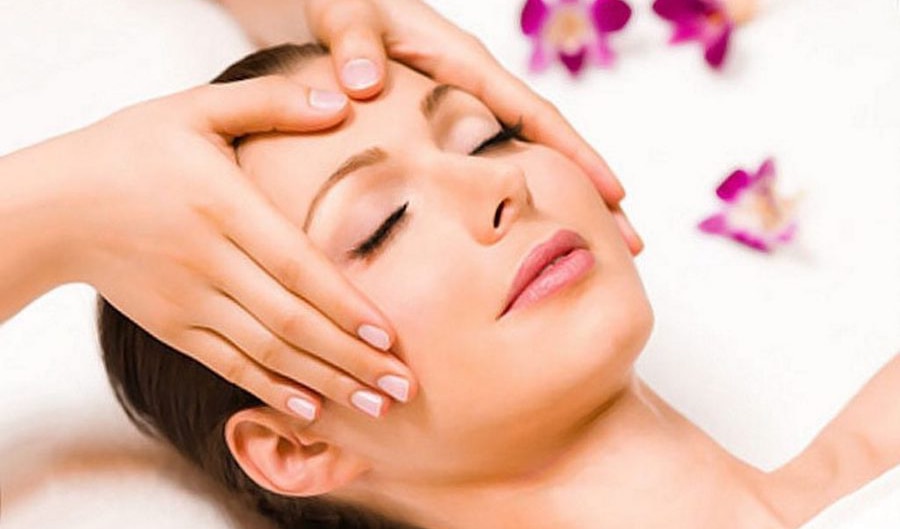 Holistic Glow Facial | Soundaryam Vardhini
Using a range of pure Ayurvedic natural products from Tri-Dosha, made from wild-grown medicinal herbs, this is a facial that goes beyond the norm. It starts by cleansing the skin with liberal amounts of Tri-Dosha cleanser. A soft face scrub, formulated with powerful ingredients kutki and fitkari, is applied gently exfoliates dry skin. Next, a face mask of neem and sandalwood is left on to work its magic, while a foot and lower leg massage is provided to ease tired muscles. Following this, an Ayurvedic facial massage is carried out with facial oil to boost energy flow. To finish, a moisturiser is massaged in using circular motions over marma points, leaving your skin fresh and revitalised.
Good for: anti-ageing; lymphatic drainage; enhanced radiance with vital (marma) point opening. Suitable for all skin types.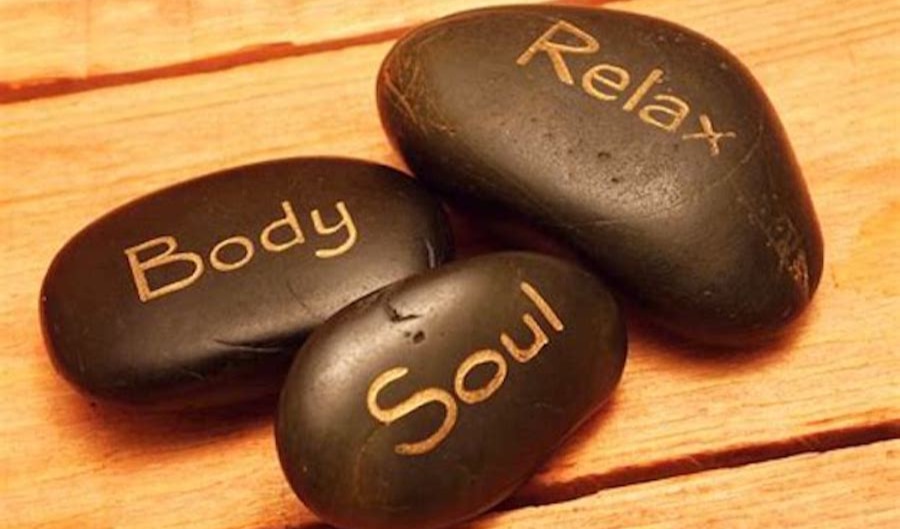 Complete Relaxation and Rejuvenation
• Full body oil massage (Abhyanga)
• Shirodhara
• Face massage.
• Complementary digestive tea to rebalance.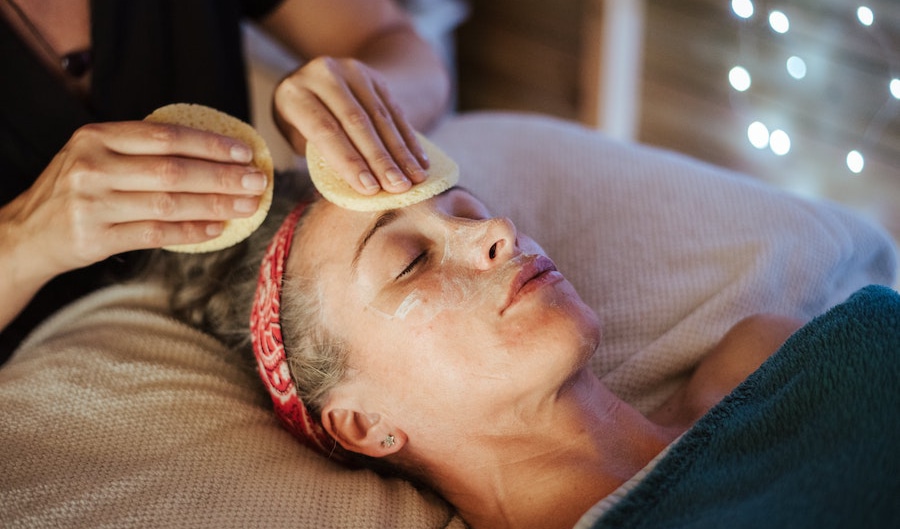 Perfectly Pampered
Seated Head neck & shoulder massage (Shirobyangha)
Full body oil massage (Abhyangha)
Holistic glow facial
Complimentary rose tea to give you an inner heart focused glow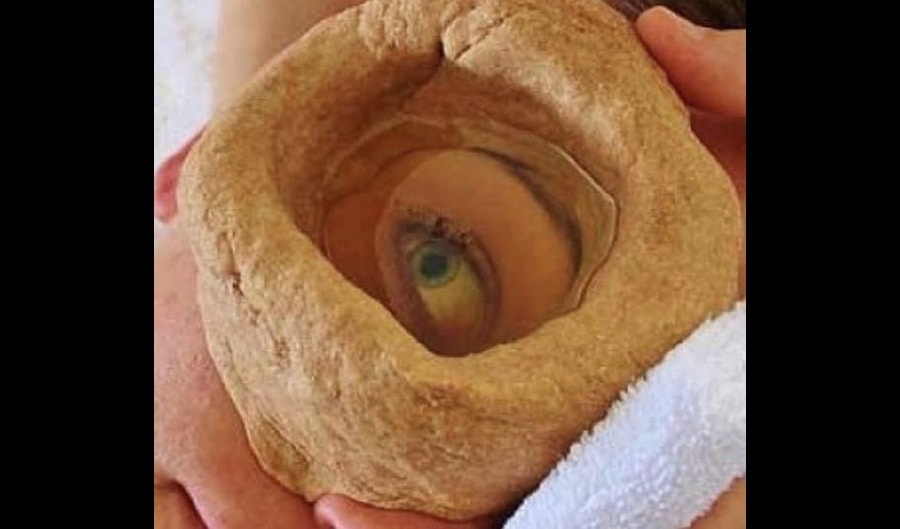 Netra Vasti
Netra vasti is a restorative and preventative Ayurvedic treatment for the eyes. The dough is made using organic flour and placed around the eye orbit to create a small dam. Netra basti has many health benefits. The dam is filled with lukewarm ghee (clarified butter), and then the patient opens his eye and performs various eye exercises while submerged under the ghee, for approximately 10 minutes.
Benefits include, reduces headaches, soothes dry itchy eyes, provides relief from allergies, improves vision, relieves eye strain, relieves eye socket tension, twitches, and squinting, slows the natural degeneration eyes. Lipid structure in ghee is similar to the body's natural lubrication, making it especially nourishing for optic nerve tissues and the brain.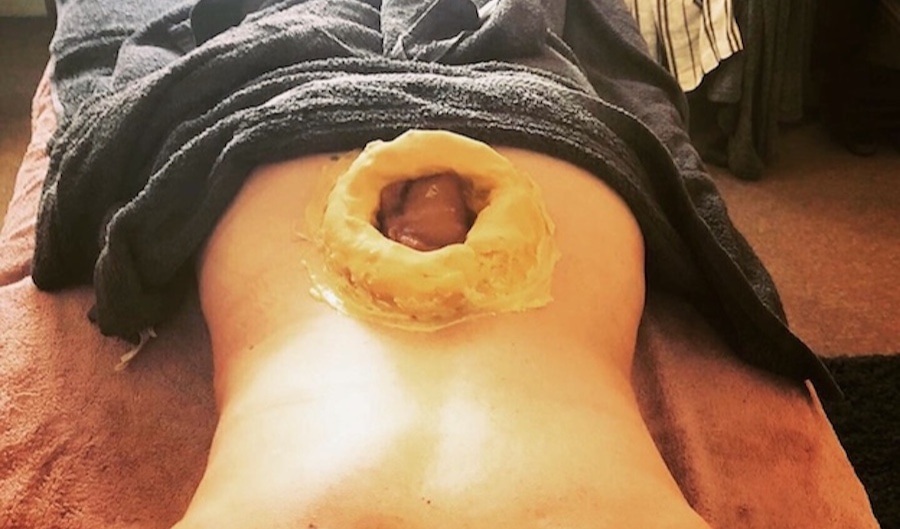 Vasti (targeted treatment for specific pain and discomfort)
£60 for one session or 4 sessions £200 | 45-60 minutes per session
This is a very beneficial treatment specific for lower back pain, sciatica, herniated and ruptured discs cervical pain, stiff neck, whiplash, migraines, knee pain, upper back discomfort or knee problems.
A well made of dough from gram flour, is placed over the problem area and filled with warm oil heated and kept on the site of discomfort for a specific period of time. This helps to soften the rigid, tight and hard tissue which results in circulation and mobility of the affected area as well as easing nerve pain.
Once the dough dam is removed a massage is given to help deepen the overall effect of the treatment. A course of a minimum of four treatments is recommended.
The vasti treatments available are Janu Vasti (knees), Kati Vasti (Lumbar spine), Greeva Vasti (cervical spine) and Prishta Vasti (whole spine).
Virginia is an amazing therapist. She is very professional and has helped me to reduce pain from an arthritic hip with vasti treatments. She also helped me with long standing sleep difficulties by a 2 hour shirodara session- that was sublime!
Julia, March 2022
About Yoga & Ayurveda
Yoga and Ayurveda are sister sciences and it is recommended that they are always practised alongside one another.
From online courses, one day retreats in the UK, to two week retreats in Kerala, South India.
Step away from ordinary everyday life for a while, and let us support and nourish you in whatever way you need.
Cancellation policy
Please understand that when you book a slot, I have reserved this time for you.

Please give as much notice as possible if you do need to rearrange to enable me to fill the slot. Someone else may be in need of a treatment and it is very frustrating when people don't turn up or cancel at the last minute!

Therefore if you cancel with less than 48 hours notice you will incur a 50% fee and cancellation with less than 24 hours notice will require you to pay the full cost of the session.
"We are both very pleased with our appointments with Virginia. It has helped us to see our health in a different way. Through a more holistic approach it has made us more aware. Understanding the impact of our diet and life experiences and a tailored programme to help change these gives us new focus and motivation and believe that we can make the positive change we want to see. Many thanks."
Andrew and Denise, June 2021
Be The First To Hear Our News!
Subscribe to our newsletter to be the first to hear all of our news, updates and details of our courses.